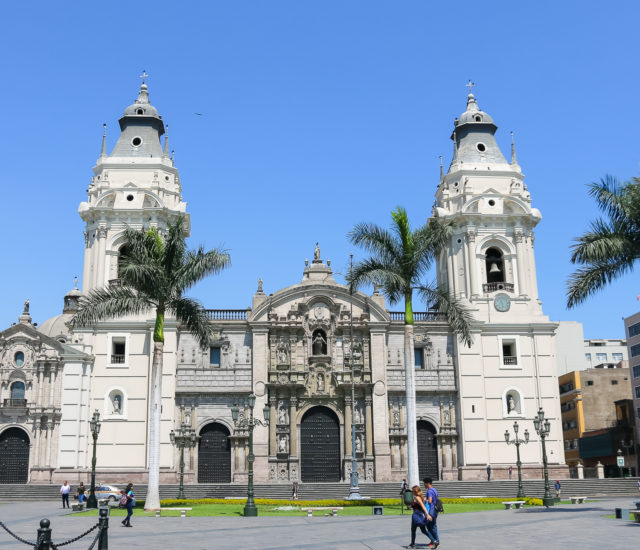 It was nice to see the city center of Lima and its colonial architecture buildings are looking better than the last time I was there – over 15 years ago. I would say now Lima looks like "The City of Kings". This is a photo of the Cathedral on the main square. There is also the popular Basilica and Convent that has a crazy museum that features catacombs with the skeletal remains of an estimated 75,000 people.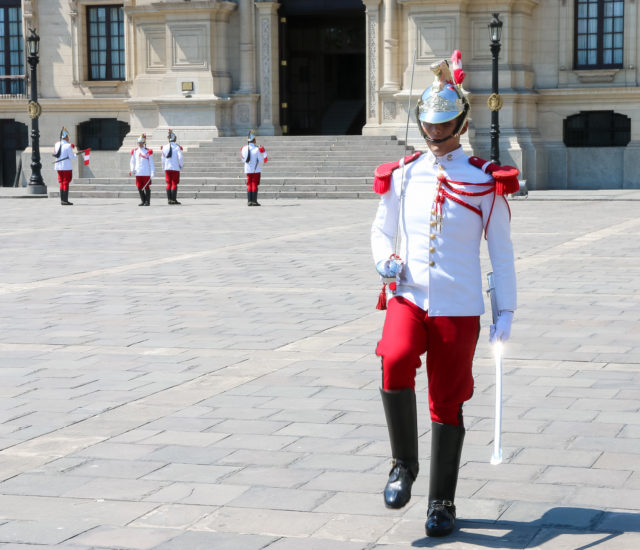 Watching the changing of the guards in front of the Presidential Palace is an event. To me it's a little strange to hear Peru's national anthem because it's the same melody Simon and Garfunkel used for their song "I'd rather be a Hammer than a Nail".
If you've ever been to Barcelona you'd appreciate this mini version of wavy low walls covered in mosaic tiles and romantic quotes. It's all part of the beautiful Parque del Amor (Park of Love) on top of a cliff on the coastline in the Miraflores district.
I also loved the immaculate gardens and stone staircases. We couldn't miss 'El Beso' it is a large sculpture depicting two lovers embraced in a passionate kiss. I can see why it's a popular place for lovers and proposals.
I think our guide was hoping we'd do a quick kiss – she doesn't know Mr. B.
There were quite a few street vendors in traditional Peruvian outfits selling souvenirs.
This photo doesn't do justice to the hundreds of surfers at one of the spots located on Makaja beach. I'm not sure how they avoid crashing into each other – considering most are just learning how to surf.
We did a quick stop (I mean quick) to check out the Indian Market in Miraflores. I loved these pom-pom garlands but couldn't think of where I'd hang them. I love how this little guy is making off with this head.
These weavings were my favorite and the price was right. I loved the black and white, wish I would have purchased one.
I wanted to see the Barranco District. I had heard it had the reputation as the bohemian district of Lima because of its bright buildings, beautiful wall art, and charming streets. It is a seaside neighborhood and did have a boho feel, so I liked it more than Lima's City Center but that's me. We did get tired of how many times our guide mentioned it was a place of artists and music.
We walked across the Puente de los Suspiros (Bridge of Sighs) which is one of the most famous landmarks in the Barranco District. To be honest, it doesn't compare to Venice's bridge of sighs – but it's the still worth a look as you stroll around.
Barranco also had some colorful murals, which is maybe what they consider an art district. I was hoping for some unique shops and galleries but I didn't see very many.
It's definitely an area I would have spent more time and stopped at some of the cafes and restaurants we passed.