ONE – Of course, we had to visit the Sagrada Familia begun by Antoni Gaudi and still being built according to our guide by the hands of God and the people of Barcelona. An incredible spiritual place, the architecture is stunning and the fact that it is still being built makes it more than a building but an experience. This is the view of the angels on the Nativity Facade. I can't wait to go back and see the progress.
TWO – La Boqueria on Las Ramblas is a fascinating market. It's bustling with activity and you'll be overwhelmed by all the colors and range of items that are sold. I couldn't help wonder how one city could consume all that produce? It's a farmers market to top all markets.
THREE – We took the Hop on Hop Off, it's an easy way to get around the city and one of its stops is The Poble Espanyol village. It began as an architectural experiment to create a village, which would represent all of Spain's different styles of architecture. It was so popular it was left intact and now houses a wide variety of cafés, clubs, and handicraft shops. It's a real treat to walk the streets and look at all the architectural eye candy.
FOUR – We toured the Palau de la Musica Catalana it is the jewel box of Barcelona. This is one of my favorite buildings in the world. It is a brilliant Art Nouveau building of decorative arts; sculpture, mosaic and stain glass. All built by local artisans as a symbol of their heritage. This building is a UNESCO site and will always be in my top five favorite places in the world. I wish we could photograph the interior so I could share it but their site will give you a better idea of its beauty.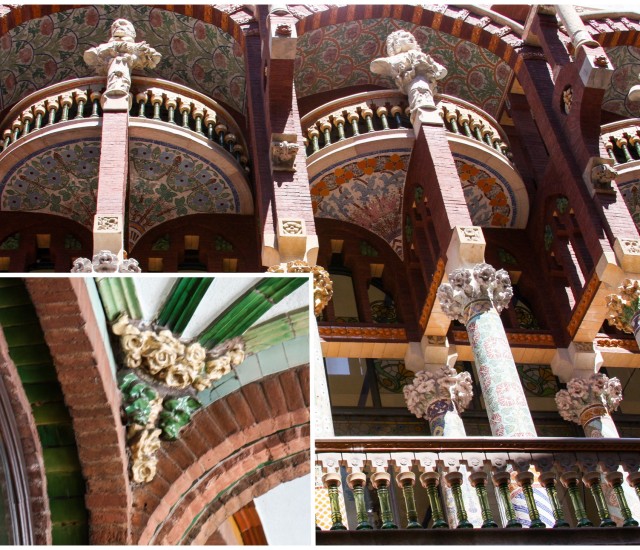 FIVE – Barcelona's architecture is brilliant and makes this vibrant city one of the most unique cities you can visit. Gaudi's architecture is world-famous but there is much more to the city. Around every corner, you'll see something amazing.
We spent our last afternoon wandering the narrow, winding streets of the gothic quarter. Two stops we made were the Picasso museum, which has a small but interesting collection. Of course, I couldn't miss the Gothic Cathedral which oddly enough is overrun by geese in the center courtyard. We didn't make it to the Gaudi's park but will keep it on our to-do list. I know we'll return to Barcelona it is a magical city with more to see.